OLIO EXTRAVERGINE DI OLIVA TOSCANO
COLLINE DI FIRENZE
The Farm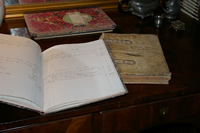 Villa Humbourg s.r.l. is a newly established farming partnership, specialized in the production of high quality extra-virgin olive oil.
Whilst newly incorporated, we are rooted in a three generation family business, thus encompassing tradition and innovation.
The seat of our business is an ancient villa, inhabited from Middle Ages, that our ancestor, Sir Alessandro Humbourg, government official and minister for the Grand Duchy of Tuscany, chose as his country residence from the second half of XVIIIth Century.
In his honour and in order to maintain the link with this tradition we have named the business after him; and in fact the documents we own about the running of the farm date back to the end of the XVIIIth Century.