OLIO EXTRAVERGINE DI OLIVA TOSCANO
COLLINE DI FIRENZE
The territory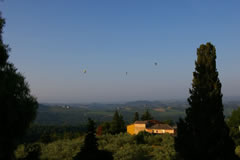 We are located in the heart of Italy, Tuscany, in the southern of the tip of the Florentine province, the centre of a landscape unique in Europe, amongst sweet hills, that man has cultivated for thousands of years, a geographical position that due to the climate and soil texture offer optimal conditions for the cultivation of olive trees.
We currently own approximately 44 hectares (109 acres) of olive groves, 200-300 m (650 – 1000 ft) above sea level, cultivated in respect of the plants and the landscape.
Our soil is mainly alkaline, with important layers of clay, thus keeping the roots fresh, whilst especially during spring and autumn, the growth of the olive trees is stimulated by the great variation in the temperature range.